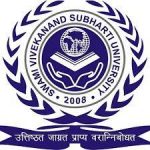 DISTANCE LEARNING PROGRAM
FROM

SWAMI VIVEKANAND SUBHARTI UNIVERSITY
ABOUT SUBHARTI

 UNIVERSITY, MEERUT
Swami Vivekanand Subharti University as a value based education provider and research oriented University, is imparting equal opportunities for people from varied walks of life without the constraints of borders becoming barriers. The University has students from across the globe and supports individuals and communities through integrated programs of teaching, research and selfless service.
Our instructional mission includes undergraduate, graduate, professional, continuing, and extension education offered through both regular and distance learning modes. Our educational programs are enriched by the talent, knowledge, diversity, creativity in teaching and research acumen of our faculty, students and staff. Our academic excellence is rooted in a student-centered model of learning which adopts a flexible but rigorous approach to education that motivates students to be creative thinkers, intellectual risk-takers and entrepreneurial problem-solvers. Students enjoy the freedom to learn what they choose and the flexibility to discover what they desire. Subhartians leave SVSU prepared to thrive as independent and innovative leaders.
Subharti University (SVSU) was established under section 2(f) of the University Grant Commission (U.G.C.) Act, 1956, under Swami Vivekanand Subharti Vishwavidhaylaya, Uttar Pradesh Adhiniyam, 2008 (U.P. Act No.29 of 2008) passed by Uttar Pradesh Legislature and assented by the honorable Governor of Uttar Pradesh in September 2008. The University is presently functioning under the auspices of Mahayana Theravada Buddhist Religious and Charitable Trust, Meerut, renowned for its exemplary service in the field of education, healthcare and social welfare.
As one of the prominent leaders in the field of education, the University is committed to academic and intellectual growth of individuals in particular and society at large with the eventual goal of nation building.
Take a look at our Popular Programs
B.A.(Hindi,English,Mathematics,Economics,Sociology,Political Science,History)
B.A (Fashion Designing & Fine Arts)
BBA
B.A. – JMC
B. Lib
B.Sc (PCM)
B.Sc (ZBC)
BCA
B.Com.
M.A (Education)
M.A (English, Sociology, Hindi, Political Science, Public Administration, History)
M.B.A. with Dual Specialization
(Information Technology/ Human Resource Management/ Marketing Management/ Production & Operation Management/ Financial Management)
II. M.B.A. with Single Specialization (Hotel & Tourism Mgt/Telecom Management/Fashion/Pharmaceutical Marketing/ Hospital Administration)
M.A. – JMC
M. Lib
M.Sc Dietetics & Food Service Management
M.Sc (Computer Application)
MCA
M.COM
Post Graduate Diploma in Intellectual Property Rights
Post Graduate Diploma in Dietetics & Public Nutrition
Post Graduate Diploma in Maternal & Child Health
Post Graduate Diploma in Food Safety & Quality Management
Post Graduate Diploma in Hospital & Health Management
Post Graduate Diploma in Computer Application
Post Graduate Certificate in Patent Practice
Approval and Recognition
Nowadays, students consider the importance of career and work hard to get through certified and professional universities either by giving entrance exams or taking admissions through cutoff lists. We need to adapt the way the world is working these days. Therefore, students are opening up for techniques like LMS to build up their careers. That's when HES comes into the picture and offers the students to explore top-rated UGC and DEB universities for distance and educational courses across India.
The best part is that all the universities have approval and recognition of all the statutory national bodies.