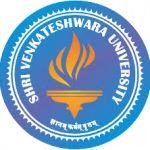 DISTANCE LEARNING PROGRAM
FROM

SHRI VENKATESHWARA UNIVERSITY
ABOUT SHRI VENKATESHWARA UNIVERSITY 

, GAJRAULA
Shri Venkateshwara University (SVU) is a private university located in Gajraula, Uttar Pradesh, India. The university was established in 2010 through the Shri Venkateshwara University Uttar Pradesh Act, 2010 as a venture of the Venkateshwara Group Of Institutions. SVU offers courses in the fields of engineering, architecture, business studies, medical science, design and language and cultural studies, among others.
SVU Plus
SVU plus is a combination of our unique integrated courses, state-of-the-art facilities and laboratories, most enriching global exposure  with an elite league of faculties, and experts from the finest IITs and NITs guarantee an added advantage of pure excellence to the students with a unique combination of curriculums .
Take a look at our Popular Programs
 B.A (Bachelor of Arts) 
B.COM (Bachelor of Commerce)
BBA (Bachelors of Business Administration Information Technology)
M.A (Master of Arts) – History
M.COM (Master of Commerce)
MBA (Master in Computer Application
)
Approval and Recognition
Nowadays, students consider the importance of career and work hard to get through certified and professional universities either by giving entrance exams or taking admissions through cutoff lists. We need to adapt the way the world is working these days. Therefore, students are opening up for techniques like LMS to build up their careers. That's when HES comes into the picture and offers the students to explore top-rated UGC and DEB universities for distance and educational courses across India.
The best part is that all the universities have approval and recognition of all the statutory national bodies.