MSW
 Master in Social Work from IGNOU 
MSW (Master of Social Work)
Master in Social Work (MSW) from IGNOU
Do you wish to serve and work with people from all walks of life? Today we've brought to you just the right guide. Master of Social Work aka MSW from IGNOU will help you study your dream course while sitting at your comfortable couches! Make sure you read this article till the end for we'll tell you everything you need to know!
What do you know about open universities?
Most of the distance universities that offer degrees with low or no entry requirements whatsoever are open universities. Also, you can go to your university from your home. Open-door education system admission is granted based on minimum education and previous academic record.
 And, these universities do not have a classroom teaching method. So, there are more benefits to doing this course, And that makes the fees affordable to all people coming from different backgrounds, including working professionals.
Eligibility criteria in MSW from Ignou
Candidates having a minimum of 50% marks in qualifying exam in Bachelor of Social Work from any recognized institution are eligible to apply for MSW in the distance education program at IGNOU.
What is the learning approach taken up by IGNOU for MSW in distance

e education?

You get the audio and video coursework while pursuing MSW from distance learning. Assignments and examinations are the main approach that IGNOU follows in order to give its students enough time to work simultaneously. IGNOU has a huge online and offline presence. So, that makes study material easily accessible for students enrolled in both the modes.
Is MSW from IGNOU a good course to consider?
MSW from IGNOU has been a number one priority course for people who have an urge to work for the society and people with special needs. It will not only contribute to your holistic development but MSW in distance learning will shower you with opportunities to delete the hustle and bustle of the city and learn from your comfort zones!
Will I get counseling sessions at IGNOU? 
IGNOU believes in student development from a holistic point of view which is why it provides free study counseling, run by legitimate study centre coordinators, on weekends. Thus, with MSW from IGNOU, a student can get in total 6 sessions.
When are the semester exams at IGNOU?
Usually the months of June and December are dedicated to exams in IGNOU every year for both the admission cycles. Semester exams will account for 70% of a student's coursework. For courses like MSW from IGNOU, if a student fails to pass any of his/her exams, they'll be given due chances to improve on their grade throughout their course.
Is MSW valid from IGNOU?
The degree MSW secured from IGNOU is valid. This is recognized and well accepted in also, foreign countries. IGNOU is a central university recognized by the UGC(University Grants Commission). DEC(Diploma in civil engineering) and AICTE(All India Council for Technical Education) also approve the degrees from IGNOU. And this is legally valid.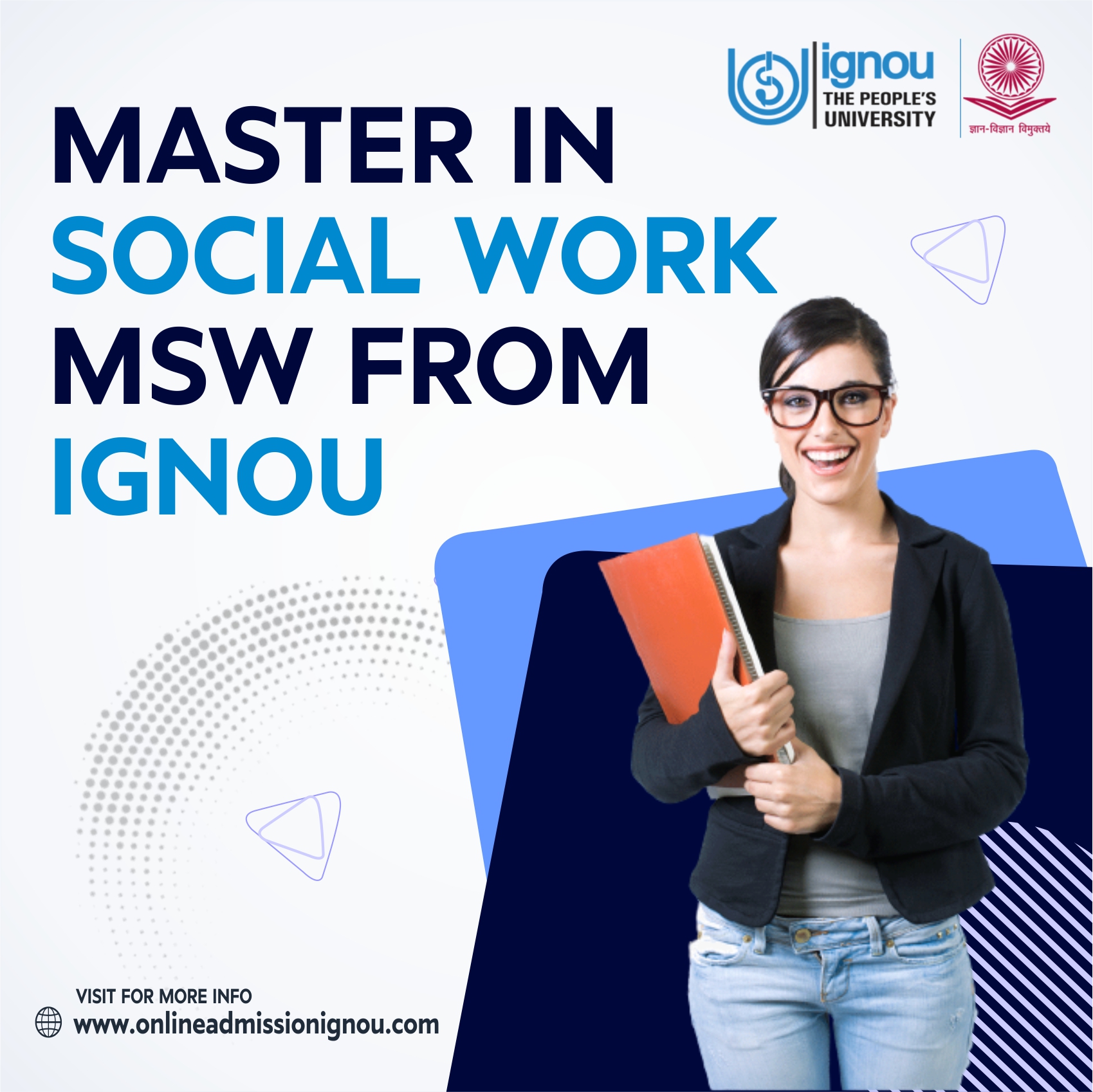 What is the evaluation structure that IGNOU follows?
Evaluation for MSW from IGNOU is very simple to understand. Assignments and exams are given a 30:70 ratio at IGNOU (same is applicable for MSW in distance education as well). With other tasks such as Case studies, Objective and short Type Answers. And IGNOU aims at making learning fun and easy for students at distance as well.
Other best UGC-DEB approved universities for Distance MSW
NMIMS

DY Patil pune

Chandigarh University

Online Manipal Jaipur,

Online Jain University

Graphic Era University
Every university has their own procedures and policies that you can check on their websites. 
Conclusion
Our final say would be that MSW from IGNOU is an ideal choice for anyone. So, who wants to give back to society, while learning at their own pace. The MSW in Distance education IGNOU program opens up many career opportunities for its students that will help them achieve their goal of working towards a better nation.
For more information regarding its application, documentations and future updates make sure you follow us on all our platforms.
Approval and Recognition
Nowadays, students consider the importance of career and work hard to get through certified and professional universities either by giving entrance exams or taking admissions through cutoff lists. We need to adapt the way the world is working these days. Therefore, students are opening up for techniques like LMS to build up their careers. That's when HES comes into the picture and offers the students to explore top-rated UGC and DEB universities for distance and educational courses across India.
The best part is that all the universities have approval and recognition of all the statutory national bodies.