MLIS
 Want to get admission to IGNOU MLIS?
MLIS (Masterof Library Science)
Want to get admission to IGNOU MLIS?
Want to pursue further study in Library administration? IGNOU MLIS is the best course for your career in Library Science. MLIS is a master's course which you can pursue only after a bachelor's degree in a similar field. However, continuing education and a job is a hectic task and impossible for many to get admission to a regular college. Well, You don't have to worry about that as the information below can solve this problem. 
What is an MLIS degree?
MLIS complete form is Masters of Library and Information Science. This is one of the fascinating Master's degrees as the duration is one year. And you can pursue while continuing Bachelors as well. This degree is suitable for those fond of books and wants a comforting working environment in school or a college premises. 
The Library MLIS course has been gaining massive popularity in recent times in front of you. Hence, the competition between students is increasing for various exams and for that they require books and study material. Also, the library is the first place a student looks for a gift.
Even advanced technologies have a significant impact on the roles of a librarian. So, A librarian is a person who has special training in library science and is responsible for running library services. Today, the librarians are also called Information Managers.
What is the eligibility of an MLIS degree course in IGNOU?
If you plan to get MLIS admission to a distance university, then IGNOU is the best UGC-DEB-approved University. But there are several eligibility criteria that one must follow.
You must have BLIS (Bachelors of Library & Information Science) or equivalent degree

Also, in your bachelors, you must have 55%

And IGNOU also welcomes those who have two years of experience working in a library

Also, 10+2 is a must for BLIS and MLIS in any distance college.
How does MLIS from ignou help in your job?
First of all, it helps to impart technical skills and knowledge to work in ICT libraries either in a school or a college. Also, it helps to increase your job opportunity with good high-paying salaries. 
Besides, MLIS helps you organize and manage archives documents in big government organizations, museums, or any national bodies.
What is the duration of the MLIS course in IGNOU?
The minimum duration to complete MLIS is one year online, but you can also get a degree in 3 years.
Is it valid to pursue an MLIS degree from Ignou?
Yes, it is as Ignou is a popular and old distance University and it is UGC-DEB approved University. Thus, it contains the same value and recognition as other UGC-DEB-approved universities.
Also, Indira Gandhi National Open University or IGNOU is a Central University run by the Central Government of India. So, it is named after former PM of India, Mrs. Indira Gandhi, and it claims to be the largest University in the world.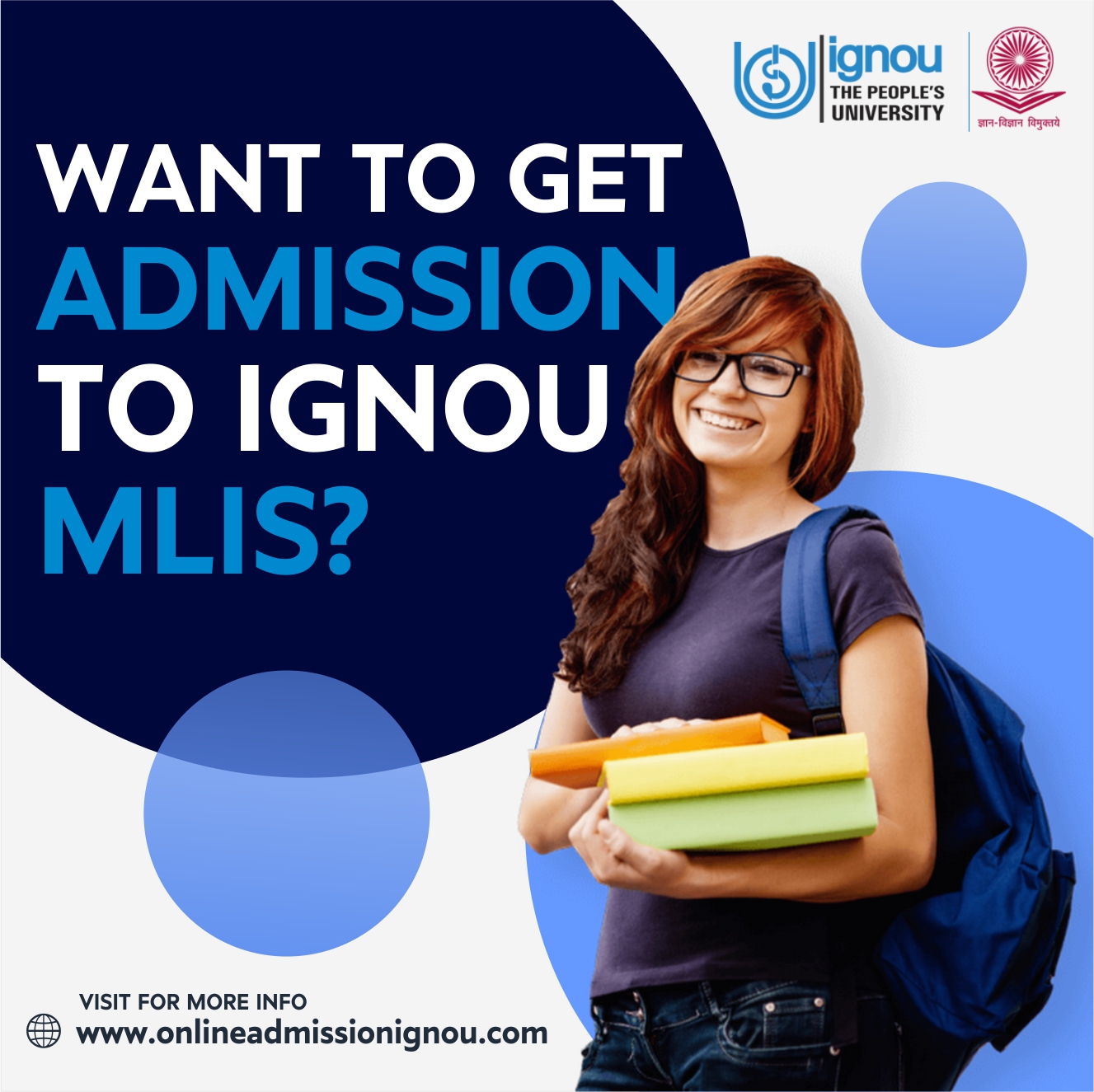 What about the online admission process for this course?
The admission process is not difficult but more times, and people think that the process is so complicated. That's why half of your knowledge can be wasted. There is an online process to take admission. You just have to register online, and you will get a call from our counseling team. They will guide you through the whole process of admission and examination as well.
Other best UGC-DEB approved universities for Distance MLIS
NMIMS

DY Patil Pune

Chandigarh University

Online Manipal Jaipur,

Online Jain University

Graphic Era University
Hence, every University has its own procedures and policies that you can check on its websites. 
CHANDIGARH UNIVERSITY COURSES
SHRI VENKATESHWANA UNIVERSITY
SUBHARTI UNIVERSITY MEERUT
Approval and Recognition
Nowadays, students consider the importance of career and work hard to get through certified and professional universities either by giving entrance exams or taking admissions through cutoff lists. We need to adapt the way the world is working these days. Therefore, students are opening up for techniques like LMS to build up their careers. That's when HES comes into the picture and offers the students to explore top-rated UGC and DEB universities for distance and educational courses across India.
The best part is that all the universities have approval and recognition of all the statutory national bodies.